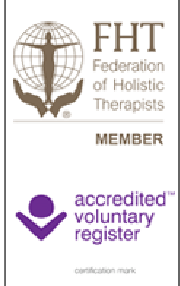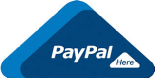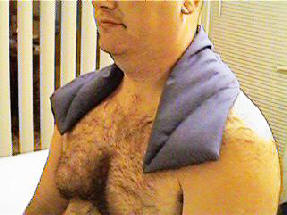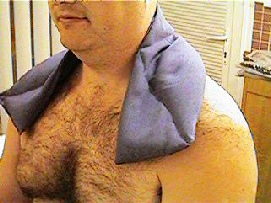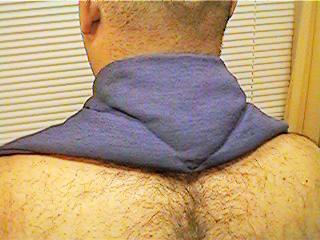 This covers the top of the shoulders and if this is worn slightly further back onto the shoulder it follows the neck muscles and on to the top of the shoulder,
If worn like this then this last part cools the pectorals
As you can see the difference between the picture above and the one on the right in this one on the right the point is worn up this allows the collar to sit on the neck higher, around C2 / C3 / C4
The cold as now been brought down the side of the neck, to cool the muscles that are part of the neck that allows the head to nod and to look up.
Now the last section has been brought to sit on the front of the shoulders which are normally affected by heavy work.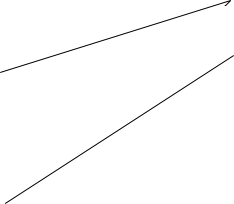 This is a collar that is akin to having 5 pockets sewn together so the filling stays in its own pocket. This allows it to be worn point up or point down, each giving different contact areas for the cold to treat.
i.e. Lower neck down to T3.
Backs of upper shoulders.
These are the main points of pain and tension in the neck




This lives in your freezer and whilst it can be used for any part of your body like down the leg or round the waist, it's main design is to be used on the neck and shoulders.
Anyone that spends a lot of time bent over a sewing machine, computer,
model making, or writing. It will also help for the person who use tools like hammers and picks, spades or shovels, these give the shoulders a lot of strain and pressure and a boon to any weight lifter.
It's pockets are filled with flax seed and approximate 2% Lavender and Lufu mix, which will accept temp below -17° without freezing solid and retains the same texture as when at room temperature.